CM Plus Vietnam's announcement of the Annual GMP Seminar, in 2022
CM - Plus
Ho Chi Minh City, November 5th, 2021
CM Plus Vietnam would like to announce the plan of the annual GMP Seminar/Workshop for 2022.
After a 2-year discontinuation due to Covid-19, we are pleased to return with the plan to organize the 6th Annual GMP Seminar/Workshop scheduled to take place in the first week of September 2022, in Ho Chi Minh City.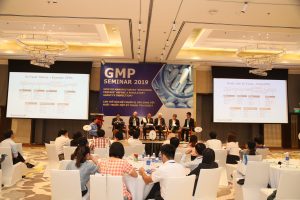 This year we continue to coordinate with CM Plus Corporation (Japan), strategic partner companies such as FactoryTalk and its SMEs, other world's leading experts of global GMP compliance applied to the Pharmaceutical Industry to select hot and practical topics and subjects and bring them to the event for all the audience to discuss in depth.
The actual program will be widely announced around the early February 2022 to you by post mails, emails and our CM Plus Vietnam's homepage.
We will also coordinate with the Vietnam Pharmaceutical Companies Association (VNPCA) for a support in connection to its members to spread out this information and the organization work of the event itself.
Thank you very much for your attention.
CMPV the Organizer.